If you are buying or selling a home in Tomball Texas, you have come to the right place. I hope you enjoy your visit and explore everything my realty website has to offer, including Tomball real estate listings, information for homebuyers and sellers.
Looking for a new Tomball home? Use Quick Search or Map Search to browse an up-to-date database list of all available properties in the area, or use my New Listing Alert form and I'll conduct a personalized search for you.
Tomball is located approximately 28 miles northwest of Houston along State Highway 249. Most of the homes you find for sale in Tomball TX are not going to be in the actual city of Tomball. Tomball real estate extends for miles in all directions of the the actual city of Tomball. The market area includes about 300 square miles of land in Northwest Harris County. The Tomball terrain is diverse including forested land and well as open rural land. Its elevation is higher than a lot of other areas, which reduces the chances of flooding. Tomball is close enough to the metro area that you can take advantage of the major events, professional sports teams and facilities.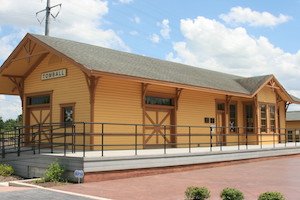 With a rich history; the town has been around for over 90 years. It was first a railroad town and then became an oil town. At the turn of the 20th century Tomball was a railroad stop and was named Peck. Soon after that Congressman Thomas Ball was responsible for routing the railroad and its operations through Peck. In honor of Thomas Ball the town was renamed Tomball. Dramatic changes happened back in 1933 when oil hit. A 100-foot gusher totally changed the area attracting hundreds of new people to the community. They city made a deal with Humble Oil and gas (now known as Exxon) allowing them to drill in the city. As part of the agreement residents had free oil and gas for 50 years. The town was featured in Ripley's Believe it or Not as being the only city with free gas and water and no cemetery. In the decades following Tomball has grown in to a vibrant community. The Tomball slogan is "Hometown with a heart and it truly is!
The expansion of State Highway 249 has continued the areas growth. FM 2920 meets up with State Highway 249 at the robust Four Corners location. These two major roads make for an easy commute. This has also contributed to a strong economic base. Many companies have been attracted including HP Computer Corporation, Kwik Kopy Corporation, Friendswood Development, Baker Hughes and many others. New retail centers are also being attracted to the town. Both HEB and Kroger have added new stores at four corners. Lowes Building Center has went in with a Target next door. No longer do the residents have to go far to do their shopping.
Click here for New Tomball TX Home Listing Alert- You'll receive automatic e-mails when homes that meet your criteria are added to the MLS - you will find out about listings before most Realtors.
Search for Tomball TX homes:
Under $200,000
$200,000 to $300,000
$300,000 to $400,000
$400,000 to $500,000
$500,000 to $600,000
$600,000 to $700,000
Luxury Homes