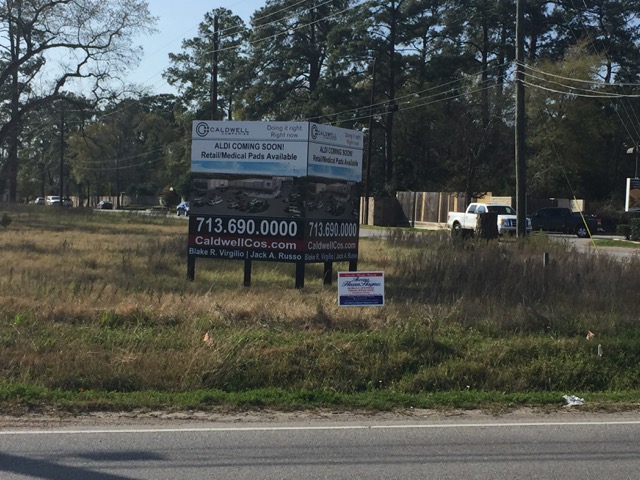 I am WAY excited about Aldi coming up to northern Harris County at the corner of Huffsmith and Kuykendahl; on the southwest corner. We moved here 19 years ago when the closest grocery store was the Randall's at Panther Creek so are truly enjoying all the conveniences. (Although I can't say I am as thrilled about the Walmart coming in as that's going to bring lots of congestion.)
My first Aldi experience was when the one went in at FM 2920 just west of the freeway; I have been a fan ever since. I am such a fan that I am going to give you my top 10 reasons for shopping at Aldi.
Huge Savings - This is my number one reason as I always walk out of there astounded at how much food I have bought for the price.
Healthy Eating at an affordable price - We are on the Paleo diet and I can find healthy food here at an affordable price. Examples of sale items are 69 cents for a bag of onions, 99 cents for a pineapple, and 69 cents for mushrooms plus they have the best price for eggs and the eggs have no growth hormones and grains from local farms. There's a scripture inside the egg carton "This is day which the Lord has made. Let us rejoice and be glad in it".
Organic foods and gluten free foods at a reasonable price.
Speed checking out - They must send these cashiers to speed training as they are so fast. I can hardly get my debit card in before they are done. You do sack your own groceries which is no big deal to me as I always have cloth grocery bags in the car.
Your car won't get dinged by a cart in the lot - This is my husbands favorite reason. You rent a grocery cart for a quarter and when you return the cart you get your quarter back thus there are no stray carts in the parking lot to ding your car.
Special buys on seasonal items - I always check through their seasonal items section. I have found that items will come on sale a few times a year. I bought the most incredible egg poacher for the microwave. I thought it was so cool that I bought it for my entire family.
Wine an beer - They have a large selection of wine and beer. They sell what I call knock off beers and they have one similar to blue moon, corona, corona light and stella. They have several others but those are my favorite.
Wonderful customer service - people that work there are happy and pass it on.
Quality - I have read that they have a double guarantee on any of their brands which means if you try it an don't like it they will refund your money and offer a replacement. I have liked everything I have bought so this one has been a non-issue for me.
Convenience - I have this as number 10 but it is up at the top for both me and my husband. Aldi's are approximately 10,000 square feet and each store is laid out identically. Some stores are flipped so you might be entering on the left or you might be entering on the right but everything is laid out identical.