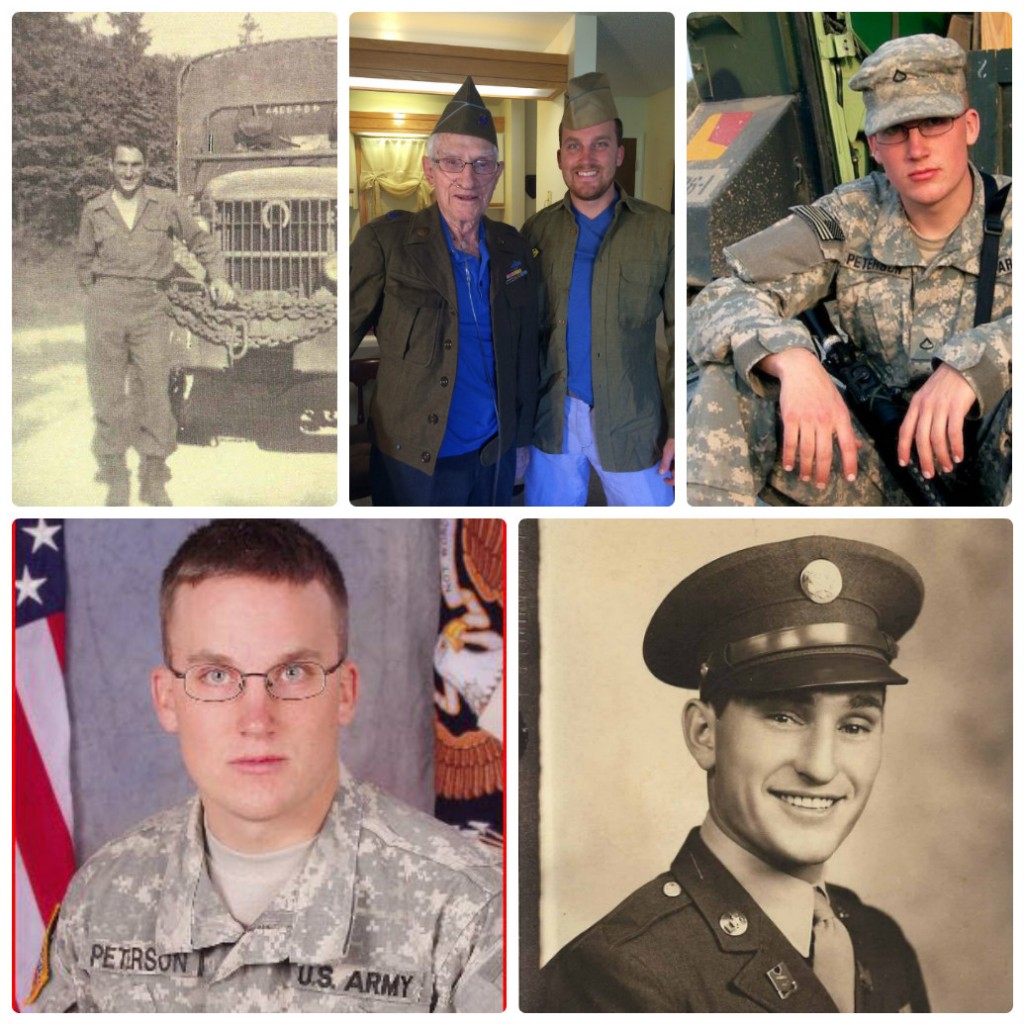 This Veterans Day I decided to make a collage of my two favorite Army Veterans; my Dad Harry Gifford and our son Tarren Peterson. Both of whom served in the Army for 4 years and 10 months.
My Dad was drafted prior to Pearl Harbor and drove a supply truck to the front lines. His truck hauled the kitchen, he would set it up and then drive troops back and forth to the front line. After the war his unit spent months in Cigarette Camps. He said they would move the units from camp to camp. He was discharged on Veterans Day in 1945.
Our son joined the Army straight out of high school going in as an Intelligence Analyst. He did two tours of Iraq. He got stop-lossed so he ended up serving 4 years and ten months, like his grandpa, instead of the 4 he signed up for. We tried to talk him into other branches, as the Army is the boots on the ground but the Army recruiters were really good. The right hand top picture is from his first tour in Iraq. He pulled a lot of guard duty.
My Dad is now 97 years old and lives in Independent Living in Cherry Creek Retirement Village in Colorado. At age 95 had lung cancer and had a lobe of his lung removed so has to be on oxygen but other than that is doing quite good. He enjoys all the activities and spends a lot of time playing card games.
Our son spent his last tour in Baghdad and in his downtime studied the ocean and decided he wanted to become an engineer. Immediately after being discharged he attended Texas A&M with the GI bill and is now an ocean engineer. I often tell him that if he had not joined the Army he would not be in the position he is in now. He went in a boy and came out a man. In his first tour he had a Sergeant named David Marklein who made a huge impact on his life and to him I want to say a big THANK YOU!
I also want to thank all those brave men and women who serve to keep us free. FREEDOM IS NOT FREE!
HAPPY VETERANS DAY 2014