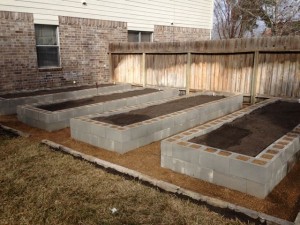 If you are wondering what all these cinder blocks are, they are my new Spring TX cinder block raised bed garden. I love to garden and for the last 5 years I have had a raised bed garden made with untreated 2×4's. We have enjoyed the garden and the fresh produce it brings. We knew when we used 2×4's that after about 5 years we would have to replace them but I think my husband thought I would get tired of it by then.
In TX we can garden all year long but I prepared myself all summer to NOT have a winter garden this year so we could overhaul my garden. We considered putting in 2×4's again but in 4 to 5 years we would be right back to where we are now. Our first step was to get rid of the wood so we took our wooden mess to Nature's Way Resources to be recycled. Nature's way is an organically based service company that will take items like this for compost. The owner took one look at our mess and said we should consider a cinder block garden as that way we would not have this mess again.. We came back and started doing research and even bought an e-book about cinder block gardening by Lynn Gillispie.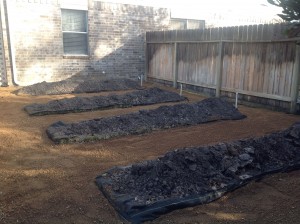 The first thing my husband had to do was re-do the irrigation lines and then we had move all the soil to the side. We had bought all this soil from Nature's Way and wanted to use it again. We did most of this ourself but we did hire someone to dig down and take the grass out as we expanded in to a section that had sod. This process took place in November so it truly has become a winter project.
From there it was time to put a weed barrier down. The e-book told us where to buy commercial weed barrier. You can't imagine the difference between this commercial barrier and the weed barrier you buy at the local hardware store. Once we had the barrier down we bought granite and made walkways around the beds. At this point they looked like 4 grave sites but I assure you it is just dirt LOL.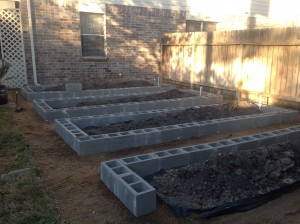 We had three pallets of cinder blocks delivered and now it was time to start laying the cinder blocks. We were able to have the truck place them in our back yard but unfortunately they were on the other side of the house so I rolled them over 2 cinder blocks at a time while my husband placed them.
If you want to you can make a cinder block garden one block high but we decided to do the double block three unit bed. Once we had the cinder blocks in place we filled the holes with granite. This wasn't totally necessary but we ordered too much granite so we figured we might as well use it. Once the cinder blocks were set we brought in 4 yards of a gardening mixture soil and filled the beds to about 2 inches below the top. My garden is now set to go. Cinder block gardening is done in units so now I will need to plan what I am going to grow and get started. It is still a bit early for many plants but I can for sure put some lettuce, onions, spinach and swiss chard in.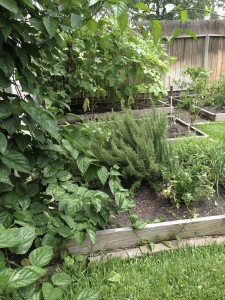 One of the things I love about living in Spring TX is the fact that I can garden all year long. The picture at the side is a picture of my garden before the 2×4's fell apart. As I mentioned earlier this has been the first winter in years that I have not had a winter garden. Typically I plant lettuce in the fall and we have lettuce until it gets bitter in June. Having gardened in both Kansas and Colorado I find it a bit humorous that the worst gardening months in Spring TX are July and August. Come July and August about the only thing you will find in my garden is okra, eggplant and hardy spices. It is way too hot for everything else.
Being a real estate agent I have had people ask me what about this does for re-sale, as lots of people don't like to garden. The beauty of a cinder block garden is that if you get tired of it you can sell the cinder blocks on Craigslist. This is not a permanent structure so could be easily broken apart (by someone else LOL). Actually we have always thought this area of our yard would be a great place for a pool. The pool will be for someone else as I would rather garden.