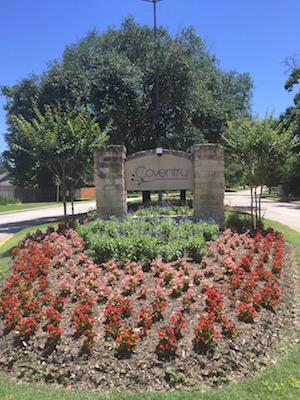 Coventry is located in Northwest Harris County. It is south of the Woodlands one mile off of Kuykendahl. It is the subdivision that you drive through to get to Augusta Pines Golf Club but Coventry was here before Augusta Pines. It is conveniently located just 5 minutes from the Woodlands; with easy access to the Grand Parkway.
With only about 319 homes it is a relatively small subdivision. Coventry's history goes back to the early 80's but the subdivision did not take off until the late 1990's and early 2000's. You still get a little bit of a country atmosphere in that the subdivision has fairly large lots and each home has their own yard light. There are not street lights within the subdivision. It does stay fairly well it with the yard lights.
The two builders for the homes built in the 1990's and early 2000's were Royce & Hampton. They range in size from 1600 to 3200 square feet. The homes that were built in the 1980's were a bit larger and range in size form 2800 to 3700 square feet. There are towering pines, oaks and sweet gums through out the subdivision.
The subdivision is well placed with access to all the amenities of The Woodlands and in walking distance to Augusta Pines. HEB Creekside is only minutes away!
MUD 19's clubhouse and swimming pool are located within Coventry and give the residents access to the swimming pool and use of the clubhouse. Residents only have to put down a deposit with MUD 19 and when the clubhouse is left clean the deposit is returned.
The subdivision is in the highly acclaimed Klein ISD. The high school is Klein Oak, the intermediate is Hildebrandt and the grade school is Metzler.