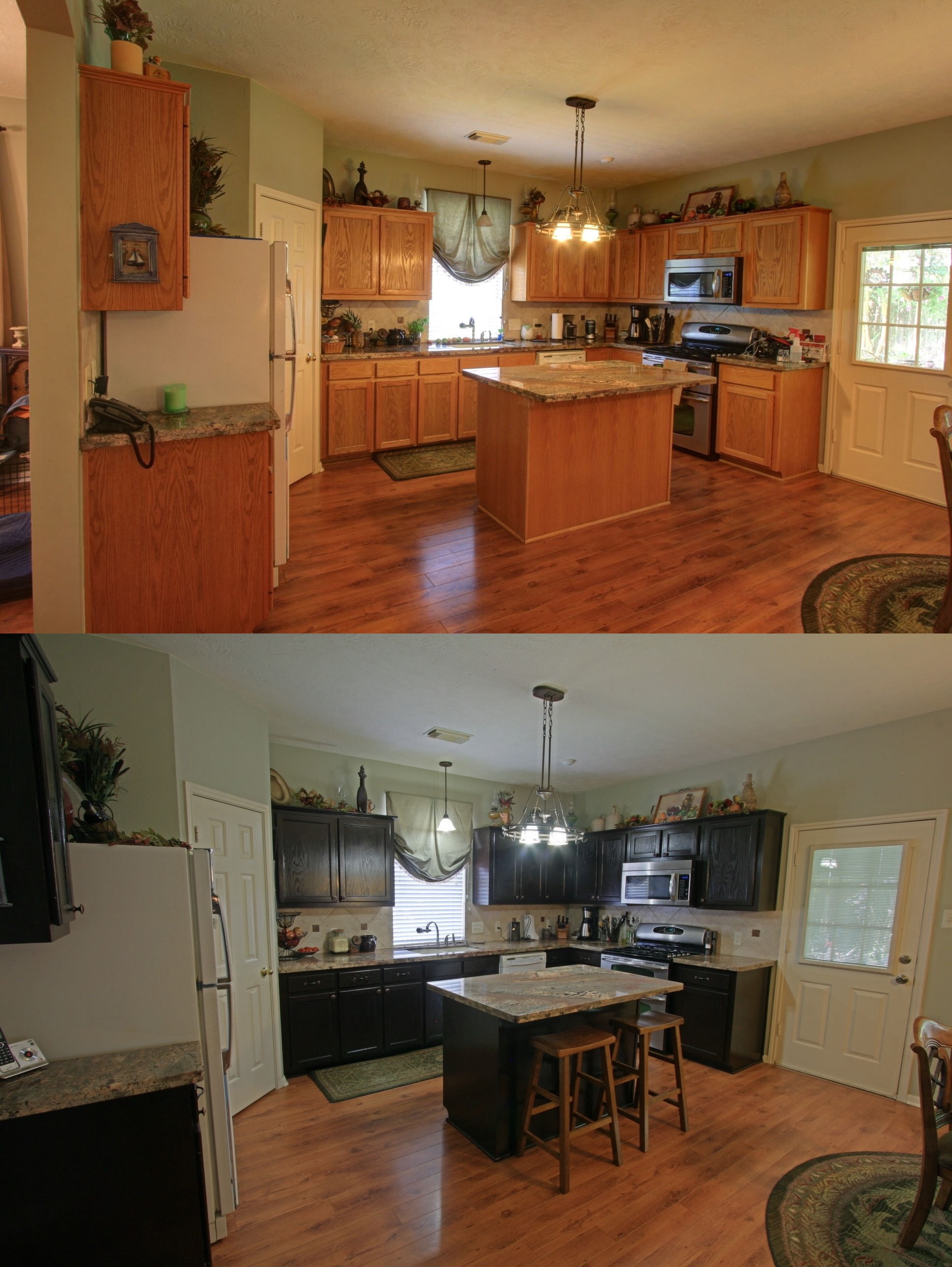 YEAH, our cabinet project is finished. For the last number of years I have noticed the dark cabinets in the new model homes as I was showing homes and loved them. Even though I loved them we did have some concerns as to how dark it would make the room. Well, the project is finished and we are totally pleased with the outcome, it is not too dark and love how it makes the granite pop. The light oak cabinets were popular when we built 19 years ago but not so much anymore. Since the cabinets were all wood we hated to get rid of them as most of the new cabinets are not of the same quality.
I found several tutorials on Pinterest so was able to watch them to get a general idea of what we needed to do. We used General Finish's Java gel stain and topcoat. We bought the stain from Woodcraft but I have also seen it online on Amazon ; it is not available at Lowe's or Home Depot. Because so many people have started using this gel it flies off the shelf so you might want to call first if you are buying it at a store to make sure it is in stock.
We decided to do divide the kitchen cabinet into 4 sections. This did spread the process out over about a 3 to 4 month period but was not nearly as disruptive as tearing the entire kitchen up. Each section took about 2 weeks but we had some trips planned between which accounts for the 3 to 4 month time period. That way I was also able to use the formal dining room to store my dishes, pot pans, cups etc. I don't know where I would have put everything if we had done it all at once.
The online tutorial said you did not have to get the previous varnish off of the cabinets but I did a test piece before starting and found the varnish needed to go. I have been redoing furniture for a very long time and the stripping part was always miserable. Those days are over with the advent of Soy Gel. No longer do you have to worry about nasty stripper and the fumes that came with it. This stuff is green and so easy to work with. I found the soy gel at Amazon, Woodcraft and Ace. The gel took two coats to get the majority of the varnish off; then fine steel wool to get the last of it off.
I don't mind the stripping and staining but not at all wild about the sanding. Luckily that is the part that my husband didn't mind so once I had each piece stripped he would then sand it. Once sanded we wiped it with Acetone and the next day it was ready to start the staining.
The staining is quite a process as it takes three coats to get the dark brown color and it has to dry for 48 hours between each coat. On the first section I tried to speed up the process and all I accomplished was making extra work for myself as it ended up taking 4 coats so my short cut turned in to a long cut. I also found that with our high humidity here in Houston it was best to have the cabinets dry in the house. I ended up sitting up the formal living as a drying station. Luckily we rarely use that room so didn't disrupt our life at all.
The last step was to put the topcoat on. When I redid the bathroom cabinets I only used two coats but with wear and tear I decided to do three coats; especially since it is the kitchen. The good news is that the top coat only has to dry for 24 hours between coats. (You have to have patience for this project.)
I figure the cost of the entire project was less than $400. It was a LOT of work but I have always loved refinishing furniture so enjoyed the project but am REALLY glad it is finished. Our white dishwasher and refrigerator now looks out of place but it is hard to get rid of appliances when they are working so for now they will just have to look out of place. Amazingly the refrigerator is going on 21 years old; they just don't make them like that anymore.