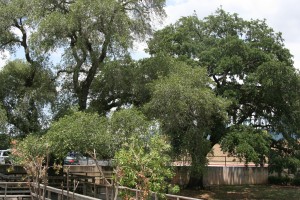 One of the many things that I love about Tomball TX are the trees. It has amazed me at the imaginative ways the trees have been preserved.
For instance if you notice the picture with the two large trees and the picnic tables. This is in the Wal-mart parking lot. This park is not built to the side of the parking lot it is in the middle of the parking lot. There is parking on either side and you can drive in front also.
If you also notice the tree with the building built around it. That is the local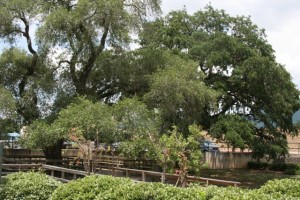 Wood Forest Bank in Tomball. They built their bank around this tree. I am in Tomball Business and Professional Women and when I was on the board we would have our board meeting in their Conference Room. The Conference Room looks out at this tree.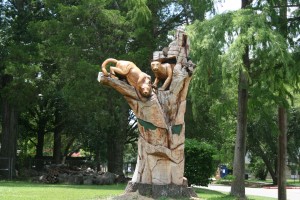 The cougar tree was a casualty from Hurricane Ike. I wrote an entire post around the Cougar tree if you would like more information. The artist who carved the tree is Master Wood Carver Nathan Smith, a local Tomball artist. He carved two cougars in a rocky cliff setting out of this fallen oak tree. Yes, the cougars are in recognition of The Tomball Cougars.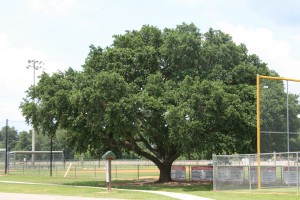 The local Tomball ball park was also built around a tree. The tree of course provides a lot of shade to stand under and watch the game.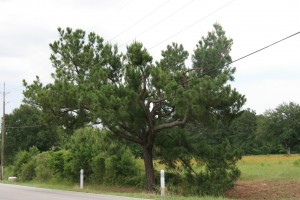 You can also see how the utility company preserves the trees by cutting the branches around the line instead of chopping the tree down.
Please realize this is just normal people doing this. There are not any town restrictions that say you must keep your trees. These pictures were all taken in the City Limits of Tomball. Tomball the hometown with a heart was going green before it was popular to go green.